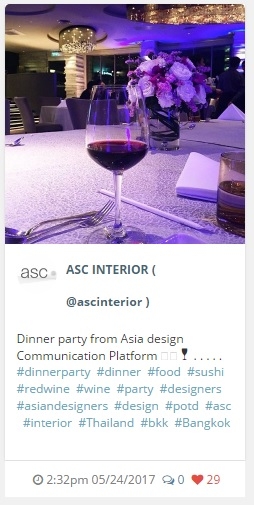 Thai Award-winning Interior Design Company "ASC Interior" in ADP Design Tour
2017.06.05
目前沒有任何圖片
Thai Award-winning Interior Design Company "ASC Interior" participated in ADP Design Tour.

Not only media were invited to the dinner party Altitude at The Westin Grande Sukhumvit, ADP also invited Thai design companies and designers to attend the event.

It's our pleasure to meet "ASC Interior" in Bangkok!

Short Introduction of ASC Interior :
ASC has delivered and continues to deliver exciting and innovative designs. We have worked with clients in hospitality, commercial and residential projects that are wide-ranging. Our experience and tacit knowledge allows us to bring out the best attributes of each unique space being developed. We incorporate elements of culture, drama, sophistication and originality without losing our focus on functionality in all our designs.

The ASC growth in the International market is blooming with experience in local know-how and local network being a poignant element. We work on both large scale and smaller projects, from renovations to complete concept rebuilding.