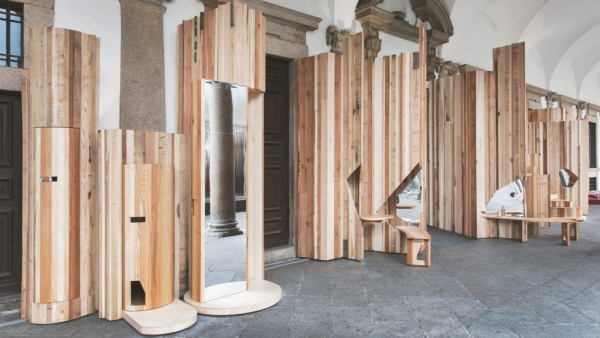 Benedetta Tagliabue wraps playful wooden furniture around pillars of 15th-century Milanese auditorium
2017.04.06
Benches and mirrors can be pushed, pulled and swivelled from these striped wooden cabinets that Italian architect Benedetta Tagliabue has installed across a palazzo facade for this year's Milan design week.

The EMBT co-founder worked with UK furniture brand Benchmark to create the four cabinets, which wrap the pillars at the entrance to the Aula Magna auditorium, located in the Cortile d'Onore courtyard at the Università degli Studi di Milano.

Called Too Good to Waste, the installation is intended to promote a more sustainable use of wood.

It is made with strips of less popular American hardwoods, including maple, cherry and tulipwood, rather than fashionable colours and species. The wood also features defects like knots and sapwood.

"We are using species that are not getting the value they should and we are using them to show that they are beautiful, versatile and useful woods for craftsmen," said Benchmark co-founder Sean Sutcliffe.

"The second thing we are addressing is the grading issue," he continued. "We, as picky cabinet-makers, have always been very fussy about using the best bits, and that needs to change if we are to move to a more sustainable way of living."