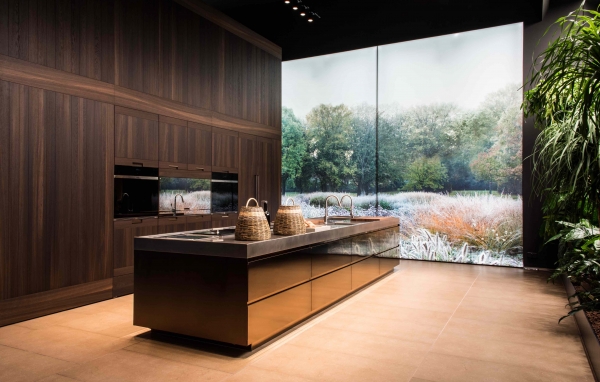 The B&B Italia Flagship store reopen in London after Antonio Citterio Patricia Viel restyling
2017.09.22
STORE NEWS

B&B Italia celebrated the UK launch of their partnership with Arclinea, expanding the product range available in store into the high-end designer kitchen segment. Reflective of the new partnership between B&B Italia and Arclinea, the London store has been transformed with a new look to present the Arclinea range.


The launch of Arclinea in the prestigious London store marks the roll-out of the strategic partnership that B&B Italia formed last September with the kitchen manufacturer, founded on the common values of design, innovation and quality. The high-end kitchens from the Arclinea range perfectly complement the B&B Italia and Maxalto collections, integrating seamlessly into the London store. The product compatibility lies in the similar industrial production approach behind all three brands which continuously strives for excellence.


The first of its kind, the impressive B&B Italia London store – a collaborative effort between John Pawson, responsible for the architecture, and Antonio Citterio, responsible for the interior – allowed visitors to experience a holistic immersion that runs through the entire space – from furniture design and kitchen design through to the spatial elements of the interior architecture. For the restyling, Antonio Citterio's office has ensured that the building's architectural features and beautiful high ceilings highlight the products on display. A master piece where Antonio Citterio's sense for adaptable living truly comes to fruition. The open plan layout encourages not only flexible living but also communal spaces with conversation and idea-sharing unlike traditional, compartmentalized spaces. The new store aesthetic is centered around an open-plan hub at the store entrance and on the upper mezzanine level designed by Antonio Citterio, transforming each space of the store into integrated living areas. Custom made by Citterio, a wooden multi-functional free-standing storage unit brings together the space, incorporating the latest project solutions, adaptable design possibilities and high quality specification of the Arclinea collection within the home and contract market. Serving the adjacent spaces, the storage forms a link between the living area and the scenic Arclinea kitchen featuring a central 4.50m island. The restyled store look also features a dramatic charcoal grey interior, a lush winter garden filled with leafy tropical plants and new fluid sequences of spaces, lit up by a new and efficient LED track lighting system by Flos, creating evocative atmospheres, inspirations and emotions.


B&B Italia Store
250, Brompton Road - SW3 2AS London
Opening hours: 10am-6pm Mon.-Sat., 12-5pm Sun.