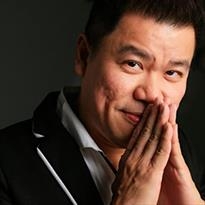 George Budiman
C001680
Singapore/Interior Design

George Budiman was born in a Indonesian Fisherman village. He Graduated from Singapore NAFA Nanyang Academy of Fine Art 1993. After few years of serving some Prominent Royalty Families & Business Tycoon In the region. He started his own SOHO Design Studio CYNOSURE Design Pte ltd in 1998. His Unique and One of a Kind SOHO design immediately received several awards in 1999 to 2001. After that he made a Bold move, George venture to China in Year of 2002 at the same year he Open his China Office " BUDIMAN Design ( Shanghai ) Ltd " with a pool of talents serving MNC, S.E.A Real Estate firm, Banks, Coporate VIPs Etc. His bold moved nicely placing himself and his design firm at the beginning of the emerging ASIA market. Year 2003 Malaysia Cynosure Design SDN BHD was open and in 2004 to 2006 he won severals design award for his F&B design. Overall Design Excellence award and Best Malaysia Tourism Bar award.

Beside his very busy work and travelling Schedule. George was very committed to SID(S) Society of Interior Designers Singapore. From 1999 – 2004 he Started as Executive Councils members, Treasurer, Chairman of Charity events. 2004 – 2006 He stood down from SID(S) due to his Commitment with his own fast growing Design practice.
In year 2007 he was invited back to serve as Founding Executive Members of IDCS( S). INTERIOR DESIGNERS CONFEDERATIONS OF SINGAPORE (merging of Two association. SID(S) & IDA(S) Interior Designers Association Singapore.) Year 2011 He created also chair 1st IDCS publication " Vitrine". A who is Who top 30 Prominent & Young emerging Designers annual publication.

2012, He created ACIA Asian Creative Industry Alliances with the Strong Support of Shanghai Government / Industry & Singapore Design Councils. Same year, George Orchestrated the ACIA 1st " POWER OF CREATIVE DESIGN INDUSTRY" Summit @ Shanghai. reported by Several CHINA & SINGAPORE key media as an Influential Creative related events in 2012.

2012 George Budiman Founder and Chairman of ACIA

2012 he was appointed as Creative Development Chairman for DESIGN S. ( 9 creative design Association of Singapore )

2013 1st ACIA / STB ( Singapore Tourism Board ) CO-Organised "FUTURE Of ASIA Design" events. Introduction & Promoting 2014 Singapore Design Weeks & WAF World Architecture Festival.

2013 George Budiman was appointed as IDCS president 2013 – 2015

2014 George Chairman of IDCS / ACIA 2014 Design Summit during SDW Singapore Design Week.